by Donald Theriault - 10:20 am EDT
Discuss in talkback! Source: Capcom
Chameleos isn't the only child of *SPOILERS REDACTED* coming back...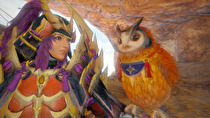 Capcom's Monster Hunter presentation has just wrapped with new information on both Rise content and the July 9-launching Monster Hunter Stories 2.
Monster Hunter Rise
The version 2.0 update will be available tomorrow (April 28) and will add five new monsters: Apex versions of Rathalos (previously... Read more...