Jason can take a rest here.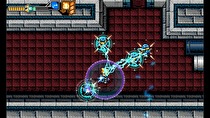 New modes and DLC are coming to Blaster Master Zero following the game's 1.2 update.
For those who have finished the game, the new "Destroyer Mode" provides additional challenge. Its effects include reducing the effect of power-ups, requiring specific weapons to defeat bosses, and giving enemies a post-death explosion. Jason and the SOPHIA also have a new look in this mode.
The new EX character mode allows players to play through the game as Gunvolt from Azure Striker Gunvolt or Ekoro from Mighty Gunvolt and the Gal*Gun series. Each character has unique abilities, and will be available for free for the first two weeks after their launch before costing $1.99. Gunvolt will be available today, while Ekoro will launch on June 1.
A demo for the game is available now on Switch and beginning with tomorrow's eShop update for 3DS, along with the updates.